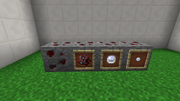 Quicksilver is a Thaumcraft-special material, representing real-world mercury. Used in several important crafting recipes, it is also one of the few sources for
Permutatio
essentia. While it is normally produced in large "drops", the
Infernal Furnace
will also produce "droplets", comparable to the nuggets of other metals (9 droplets to a pool). In recent versions these droplets are also craftable.
Quicksilver is normally smelted from Cinnabar Ore (cinnabar is a real-world mineral containing mercury). It can also be crafted from Shimmerleaf flowers. Cinnabar ore is found in solitary blocks like Amber Ore, but is more common at deeper levels underground. Cinnabar ore can be converted into "native clusters" by the Pickaxe of the Core, but unlike iron or gold, there is no crucible recipe (yet) for cinnabar clusters.
Ad blocker interference detected!
Wikia is a free-to-use site that makes money from advertising. We have a modified experience for viewers using ad blockers

Wikia is not accessible if you've made further modifications. Remove the custom ad blocker rule(s) and the page will load as expected.